Our Top Selling Medium Sized Scooter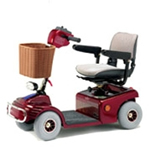 Special Offer - The Kymco Midi Scooter now only £1,299 - with speedy home delivery
The Kymco Midi is designed to be simple to use and very reliable - this makes the Kymco Midi one of the most popular 4 mph mobility scooter on the market today!
This is a full size mobility scooter for shopping and leisure trips from home - occasional transportation in a suitable vehicle is possible to extend the range of the scooter. With variable speed of up to 4mph and automatic braking this is an ideal all round scooter for daily use.
A Cover for your Scooter
This scooter cover now reduced from £425 to a special offer price of only £399!
This fully weather resistant mobility scooter canopy is a great way to stay dry and comfortable while you travel.
Ideal for use at any time of year, the canopy is made from durable nylon and fits over the whole of your scooter's frame, so you stay protected at all times.