Our Top Seller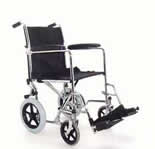 The Z-Tec ZT -600-604 Folding Steel Transit Chair 'One of our Our Best Sellers' and Currently on Offer for the Very Special Price of £149
For the ultimate design in lightweight wheelchair transportability, safety, comfort and style take a look at the Z-Tec ZT -600-604 steel transit wheelchair.
This very versatile wheelchair is specially designed for use in hotels, restaurants, shops, garden centres, day trips, public transport and many other uses.
The Transit Wheelchairs total weight is only 12.5kg (27lb).
It can be delivered to you next day for an all inclusive price of only £159.
We have lots of other wheelchairs in stock - give us a call.